Celebrating the independent kiwi spirit of invention.
---
Research Topic: Flash Memory Card Types
By Ian Mander, 11 January 2003. Last updated 18 March 2011.
Question: What different types of flash memory cards are there?
Answer: There are four basic types or families, each of which has at least one "upgrade" to a new version, meaning a new shape or size. The four basic types/families in approximate order of current worldwide sales are:
Note that within each family the particular card types might not be very high sellers.
Other information
---
Suitability
All the different kinds of flash memory cards have their uses where they are (sometimes only slightly) more suited. For example, CompactFlash and SD offer large storage capacities, fast, and SD in particular is relatively inexpensive. SD is the smaller of the two, but CF has four (or even six) times the storage of SD on a single card, and CF is currently twice the speed of any other format.
MicroSD, Memory Stick Micro (M2) are very small, so are well suited for cellphones, although microSD is considerably less expensive than M2.
However, many types have serious limitations on the maximum capacity, due to the interface/specification of the card rather than manufacturers' current technology, such as the original Memory Stick, which could only have 128 MB per card. Much more recently, SD has now also reached its limit of 2 GB (or apparently 4 GB with a work-around), and its new version, SDHC, is also at its limit of 32 GB.
Read/Write Speeds
Until recently the maximum read and write speeds of flash memory cards were specified in the same way as CD writers - the number of times the read speed of a normal audio CD of around 150 KB/s. (This means that cards with a read speed of 133x can spit out an impressive 20 MB/s.) However, more recently the maximum speed is sometimes just listed in MB/s. Even more recently SD cards have minimum transfer speeds described by a Speed Class Rating of 2, 4 or 6, with the value being the minimum transfer speed in MB/s. (Panasonic referred to a Class 10 in May 2009 but as of November 2009 it hadn't been officially announced by the SD Association.) For example, a Class 4 card can do a minimum of 4 MB/s, which is about 26x. Neither the "X" speed ratings nor the Speed Class Ratings are verified by any independent body.
As an example, Panasonic's latest SDXC cards are Class 10 (ie, a minimum of 10 MB/s), with a maximum tranfer rate of 22 MB/s.
Future Technology
CF is the most future-proof format (theoretical maximum volume size of 137 GB), and is the most preferred by professionals, while SD is now the most preferred for consumer cameras due to its smaller size and lower price.
On the horizon (and coming closer quickly) are moves by SanDisk to introduce write-once/read many (WORM) memory cards for digital cameras and such-like. They claim that they would be very inexpensive and would reliably store data for 100 years. In the USA SanDisk got over 50% of the flash memory card market share for 11 months in 2006, so their changing the market by introducing such memory cards would be quite possible for them. This will have serious implications for the sort of memory we are able to buy in just a few years. Rewritable memory cards could well price themselves out of existance.
Buying
For memory card prices in New Zealand (in NZ$) see Pricespy's memory card price list.
Also, I have a page for reviews of online shops that sell flash memory cards.
---
MMC / SecureDigital
See notes on Speed Class Ratings above.
MultimediaCard (MMC)

Now superceded by SD, although the 128 MB MMC size has been released since then. 24 mm x 32 mm x 1.5 mm thick.

Update February 2005: Looks like someone hasn't given up on this standard yet. Apacer has announced a 2 GB MMC.

Made by: Lots.

Maximum storage size: 2 GB (February 2005).
RS-MMC

Not "Really Small MMC" but Reduced Size MMC. It's the equivalent of Mini SD in the MMC spec. 18 mm x 24 mm x 1.4 mm. It really is an MMC reduced in size, but using a physical adaptor to elongate the card (which has its contacts on the side not the end) it can be used in ordinary MMC slot. Does not support low voltage phones.

Made by: Lots.

Maximum storage size: 2 GB (June 2005).
MMCmicro

This one is even smaller than RS-MMC. 12mm x 14mm x 1.1mm, or "one-third the size of today's common reduced-size multimedia cards (RS-MMC)." Operates on 1.8 or 3.3 volts and can supposedly read at 10 MB per second and write at 7 MB per second. Is backwards compatible with MMC, so just needs a physical adaptor. Mass production was due to begin early 2005.

Made by: Samsung, who is working on standardising the "MMCmicro" memory card with the Multimedia Card Association (MMCA).

Maximum storage size: 128 MB
MMC4

No, MMC's not dead yet. The latest incarnation of the MMC standard, and the same size and shape as MMC but with more pins (11 of them). Supports dual-voltage operation - 1.8 V or 3 V. The first to demo this sort of card was Pretec, and they laid claim to the title of Fastest "Little" Card in the Word, at 150x read speed (22.5 MB/s) and 120x write speed (18 MB/s). At the time of announcement it was supposedly twice as fast as any SD card then available, or 8 times anything then available in MMC 3.2.

Made by: Lots.

Maximum storage size: 8GB.
MMCmobile (RS-MMC4)

Same size as RS-MMC but based on MMC4 with 11 pins, and supports dual-voltage operation - 1.8 V or 3 V - so it will work with mobile phones that like that sort of thing.

Made by: Lots.

Maximum storage size: 2 GB (Jun 2005).
MMCmini

A miniature sized version of MMC, 20 mm x 21.5 mm x 1.4 mm, so similar in size to RS-MMC, but apparently based on MMC4 with its 11 pins.

Made by: Lots.

Maximum storage size: 2 GB.
SecureDigital (SD)

The "replacement" for MultimediaCards, designed to compete with the copyright protection offered by Sony's Memory Stick, and the same shape as MMC but a little thicker - 24 mm x 32 mm x (normally) 2.1 mm, compared with 1.5 mm thick for MMC. SD card equipment can use the thinner MMC but not the other way around, since they won't normally fit, except for some SD cards which are only 1.4 mm thick.

When SD first came out, for a while some equipment (even brand new cameras) could only take 128 MB maximum, so if buying a larger card for a really old camera, check it will work first.

Read/write speeds are up to a claimed 20 MB/s (or 133x, as of July 2005). SD card specification 1.01 covers cards up to 66x (about 10 MB/s), specification 1.1 for cards up to 133x.

The SD format, using the FAT16 file system and byte addressing, originally had a capacity limit of 1 GB, with a work-around increasing the limit to 2 GB. (Some SD cards over 1GB cannot be read by some readers unless they are SDHC cards.) Some companies have made non-standard SD cards of 4 GB, using the FAT32 file system (but still with byte addressing), but these are incompatible with equipment that cannot handle large SD cards (or FAT32), and may also be incompatible with SD 2.0 equipment as well. See SDHC for cards that use the SD 2.0 spec.

Made by: Various.

Maximum storage size: 2 GB by specification, 4 GB non-standard.

Other uses:

SecureDigital Input/Ouput (SDIO) cards include WiFi cards (with or without 256MB memory), Bluetooth, etc.
The ever-innovative SanDisk have announced (Jan 2005) the Ultra II SD Plus card - an SD card that folds open to reveal a USB2 connector, meaning the card can plug into one's camera/phone/whatever, or straight into one's computer without any extra cords or adaptors - an SD card that doubles as a USB flash drive. Fantastic idea! Half the card is taken up with the USB connection, so maximum storage is 2 GB (February 2006).



SDHC

An addition to the SD range (with the physical dimensions the same as a normal SD card), to get over the SD limit of 2 GB. Equipment must be compatible with SD card specification 2.0. The format uses FAT32 and sector addressing instead of FAT16 and byte addressing as with the 1.1 specification. There is a 32 GB maximum for the SDHC specification.

Write speeds are up to 20 MB/s (minimum sustained for Lexar's professional 133x cards, or burst for Panasonic's top cards), although more commonly achieve 9 MB/s and read speeds up to 10 MB/s.

Made by: Lots.

Maximum storage size: 32 GB (prototypes January 2008, Panasonic expected to ship in April 2008).
SDXC

An addition to the SD range (with the physical dimensions the same as a normal SD card), to get over the SDHC limit of 32 GB. There is a 2 TB maximum for the SDXC specification, which was announced in January 2009, and it's about time the SD spec allowed for large volume sizes.

Made by: Lots.

Maximum storage size: 128GB (Mar 2011).
miniSD

Arguably the answer to Memory Stick Duo, about half the size of SD. Can be fitted in place of a standard SD card by using a physical adaptor, which basically just lengthens the card. The price of these are already about the same as normal SD cards.

Made by: Lots.

Maximum storage size: 2 GB (August 2006).
microSD (aka TransFlash, originally T-Flash)

This one really is small - just 15mm x 11mm x 1mm, at time of writing the world's smallest removable flash memory module. To put it in perspective, it's about one-fourth the size of a standard SD card, or roughly the size of a fingernail. They can be inserted into an adapter and used in SD-enabled devices. It's by far the most common card used in mobile phones (by my count 316 phones according to a list compiled in Sept 2006 by SanDisk), and at time of writing about 1/5 the price of MS Micro (21 phones, all Sony Ericsson), with the price of microSD dropping rapidly.

Made by: Lots.

Maximum storage size: 2 GB microSD (~September 2006), 8 GB microSDHC commonly available (as of September 2008).
UHS-I

An extension to the SDHC and SDXC specification, which provides for faster transfer speeds. Present specifications include SD 3.0, UHS50 with a maximum 50 MB/s, and SD 3.0, UHS104 with a maximum 104 MB/s.

Made by: Panasonic, Toshiba, etc.

Maximum storage size: 32GB (Sep 2010).
SD 4.0

The next extension to SD cards, the SD 4.0 specification should be released in early 2011. It includes an extra row of pins on the back of the card to allow transfer speeds up to 300 MB/s. The new pins can be used on SDHC or SDXC cards, and the standard is fully backward compatible with equipment that cannot make use of the new pins.

Made by: None yet (announced by SD Association September 2010).

Maximum storage size: N/A.
Back to top.
Memory Stick
DO NOT LOW-LEVEL FORMAT OR DEFRAG MEMORY STICKS. Apparently all the read/writing required can kill them (due to heat build-up?).
Memory Stick

For many years a proprietary flash memory card made by Sony. Sony has made great fanfare about these things being "about the size of a stick of chewing gum" (50.0 mm x 21.5 mm x 2.8 mm), but the growth of the standard was hampered for years by Sony not licensing the design to others.

Maximum write speed 1.8 MB/s, maximum read speed 2.5 MB/s.

Made by: Sony and more recently a few select licensees, such as Lexar Media and Sandisk.

Maximum storage size: 128 MB (which is the limit fixed by the interface/specification).
Memory Stick with Memory Select Function

These things have a switch on them to select which 128 MB block is to be used. It's so people can "separate their personal data into the individual memory units..." The need for this is actually thanks to the not-so-forward-thinking 128 MB limit on the Memory Stick design. The good news is that the switch means it's compatible with all standard Memory Stick equipment.

Made by: Sony and a few select licensees, such as Lexar Media and Sandisk.

Maximum storage size: 256 MB.
Memory Stick PRO

Improved transfer speeds, greater capacities than standard Memory Stick. Twice the number of connectors as the original Memory Stick, so it's not backward compatible with standard Memory Stick equipment. Some brands are claiming read/write speeds up to 18 MB/sec (Feb 2006).

Includes "MagicGate copyright protection technology for secure transfer and playback of commercial and copyrighted content."

Made by: Sony and a few select licensees, such as Lexar Media and Sandisk.

Maximum storage size: 4 GB (SanDisk in Oct 2004, Sony in Jan 2005).
Memory Stick PRO Duo

Includes "MagicGate copyright protection technology for secure transfer and playback of commercial and copyrighted content." Size is 31 mm x 20 mm x 1.6 mm.

Read/write speed a claimed maximum 8 MB/sec (Feb 2005).

Made by: Sony and a few select licensees, such as Lexar Media and Sandisk.

Maximum storage size: 32 GB (Oct 2009).
Memory Stick PRO-HG Duo

A high speed version of the Pro Duo cards.

Size is same as Memory Stick Duo (31 mm x 20 mm x 1.6 mm) but this subformat of card has a higher interface speed aimed at realtime video recording. It's backwards compatible with Memory Stick Duo equipment and (of course) includes MagicGate.

Read/write speed a claimed theoretical maximum of 60 MB/sec, three times as fast as the theoretical maximum of Memory Stick Pro. Minimum write speed in 8 bit parallel mode is 15 MB/s.

Made by: Sony and Sandisk.

Maximum storage size: 32 GB (Jul 2009).
Memory Stick Micro (aka M2)

The smallest of the Memory Stick range, this one is just 15 mm x 12.5 mm x 1.2 mm, or a quarter the size of the Duo. Includes MagicGate.

These haven't made it onto Pricespy yet but at time of writing are about five times as expensive for the same capacity as the slightly smaller microSD card.

Made by: Sony and Sandisk.

Maximum storage size: 1 GB (format announced Sep 2005 but no size was mentioned in the press release), maximum theoretical size 32 GB.
Back to top.
Compact Flash
CompactFlash (CF)

Arguably the oldest of the flash memory cards, these came out in the early 1990s along with SmartMedia. They are also the most-developed and most future-proof - for example the CF specification has always allowed for a maximum volume size of 137 GB, which it is finally approaching.

CompactFlash also has the largest available capacities by far of small flash memory cards and until 2005 was by far the least expensive for any particular capacity - in New Zealand they were as little as half or even just a third the price of the same capacity in other formats, although the gap has now closed for some other types (notably SD). The read and write speeds of the best cards are faster than that of other types of flash memory cards. Depending on brand, card reader etc, cards can have read and write speeds anywhere up to 100 MB/s for 666x cards (almost 30 times as fast as a DV video stream requires). The CF 4.0 standard supports IDE Ultra DMA 133 for a maximum data transfer rate of 133 MB/sec.

CompactFlash cards are 3.3mm thick, 50 pin. CompactFlash™ is actually a trademark of SanDisk. The "Ultra" in the pic at right is simply SanDisk's way of designating their somewhat faster cards.

In sales CompactFlash cards have slipped behind the smaller SecureDigital and MemoryStick in the last year or so, although there is still a large installed base and a strong following from serious photographers (according to the NZ Herald), with CF being by far the main card used in professional digital cameras.

The CompactFlash standard is basically a connector specification for the common ATA/IDE interface. In other words, it has the same electrical connections as the PCMCIA-ATA interface but in a different layout. Equipment needs to be compatible with FAT32 file structure to use cards larger than 2 GB (or at least to be able to make use of the extra capacity on a card greater than 2 GB after they are formatted). SanDisk makes a 4 GB card that gets around that problem with a little switch on the side of the card so it can be used as a single 4 GB volume for FAT32 equipment, or two 2 GB volumes for FAT16 equipment. Adapters are available which convert (up to) four CF cards into a SATA/IDE volume.

Made by: Just about everyone.

Maximum storage size: 32 GB commonly available, 64 GB available, 100 GB expected to be shipping by the end of 2008 (Pretec), 137 GB maximum possible.

Other uses: Ethernet card for Palm and other PDAs.




CompactFlash II

A slightly thicker (5mm, 68 pin) version of CompactFlash, this is the only type of flash memory card that went to a larger form factor for its upgrade. The larger size allows for greater storage capacity and more versatile uses.

Most hardware that accepts CF II also accept CF cards. As with CF cards, the read and write speeds are faster than other types of flash memory cards. Depending on brand, card reader etc, cards can have minimum read and write speeds anywhere up to 20 MB/sec (more than fast enough for DV playback). Note that it's only in Firewire and CardBus card readers that the full speed of CompactFlash cards can really be utilised.

Made by: Various.

Maximum storage size: 16 GB (Sept 2006, SanDisk and Pretec).



Other uses:
Microdrive (made by IBM and others). 340 MB, 512 MB, 1 GB, 4 GB, etc.
WiFi cards announced by Sandisk, with or without 256 MB memory.
Bluetooth adaptor (for wireless peripherals and networking).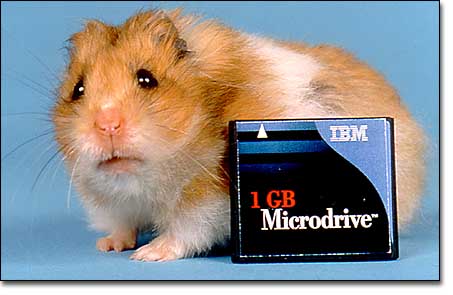 IBM's 1GB Microdrive.
CFast

Basically a CompactFlash card with a SATA interface - announced January 2009. This increases the maximum transfer speed from 133MB/s (PATA) to 375MB/s (SATA).

According to Wikipedia "CFast cards will not be physically or electronically compatible with CF cards" which means a new card reader will be required.

PC cards made by: Pretec.

Maximum storage size: 32 GB.
PC Card

For years companies like SanDisk have made PC cards (PCMCIA cards) with solid-state memory in them. Indeed, PC cards and CF cards were originally competitors (and use the same electrical interface, but in a different layout). Similar to Panasonic's P2, but available in larger sizes - SanDisk has already announced a 16 GB card, or 8 GB in an "industrial" version with greater resistance to vibration and an improved number of duty cycles.

PC cards made by: SanDisk.

Maximum storage size: 16 GB storage announced (Nov 2004). In practice only 8 GB (Feb 2006).
Back to top.
SmartMedia / xD
SmartMedia

When SmartMedia cards were originally launched in 1995 the interface had an 8 MB limit, which was expanded to 16 MB. The new cards were not backward compatible due to a lack of internal controller in the cards (which helped keep the price down). To further complicate things there were originally two voltages (3.3 V and 5 V) which were not interchangeable. Putting a 3.3V card in a 5V-only reader will wreck the card. All in all, not a great start to a memory card "standard."

There was also concern originally because SmartMedia cards are so thin (45 mm x 37 mm x just 0.76 mm), but people didn't seem to worry about that, and by 2001 it covered about half of the digital camera market. Because larger card sizes didn't arrive, camera manufacturers eventually jumped to SD and xD-Picture Cards.

Made by: Toshiba and Samsung (still), which are rebadged by Lexar and SanDisk.

Maximum storage size: 128MB.
xD-Picture Card

The "replacement" for SmartMedia, it is quite a bit smaller than that format. After xD-Picture cards were announced it took over a year to (almost) increase the storage capacity from the original release to 256 MB (they just announced the increase). Not quite "bubbling under" but they certainly aren't a major seller.

In August 2006 2 GB cards were announced, up from the previous 1 GB limit. They were due in September, they came with a warning from Olympus that they may not be compatible with all camera models that use the cards.

The original card came in sizes from 16 MB to 512 MB.
Type M card are from 256 MB to 2 GB, and are a bit slower than the original.
Type H cards (released November 2005) are 256 MB to 2 GB, and are theoretically up to three times faster than Type M cards - in practice only slightly faster than the original cards.

A feature of cards made by Olympus is "panorama support", something "which requires specific support from the media card" but seems a bit of a con, since the cards don't have a controller and just store information as ordinary NAND chips do. Even with the lack of controller the cards are still more expensive than other types.

Made by: Fujifilm, Olympus.

Maximum storage size: 2 GB (announced Aug 2006), 8 GB maximum (type M).
Back to top.
Video Memory
P2

Aimed firmly at the (very practical) solid-state digital video market, the DVCPRO P2 (Professional Plug-in) card is the same size and and has the same contacts as a PCMCIA card (PC card), and contains a controller and four SD cards (in parallel - basically a RAID array) to allow for fast read and write speeds. By replacing video tape it makes video equipment much more durable and much more resistant to vibration and shaking, since the recording is completely with solid-state devices. It has a top read/write speed of about 80MB/s, making it the fastest flash memory card format.

That's all good stuff - the idea is a good one - but where it fails at present is in card capacity and cost. Why their largest card for so long was only 8GB I really don't know. Over the same period, a couple CF II cards would have taken up less volume than a PCMCIA card and would give up to 24 GB solid-state storage with easily enough write speed even for DVPRO HD.

Panasonic proudly proclaims a 128 GB P2 card "is just a few years away." They continue to be over a year behind their initial predictions, although a 16GB P2 card is now available. Older P2 equipment from Panasonic needs a software update to be able to use the 16 GB P2 cards.

The cost of P2 cards is also incredibly high (the 16 GB P2 is over US$1,000), even allowing for the use of four industrial grade SD cards. It's much cheaper to buy a PCMCIA adaptor with a big CF card - with a 16 GB CF card you get the same storage, or use a PC card memory card directly - also available up to 16 GB. The only real advantage P2 has is the top speed, but that would only be useful when copying recorded footage.

My recommendation is still the same (after two big reviews) - don't rush to buy P2. To me it still seems a promise that hasn't yet delivered.

Made by: Panasonic.

Maximum storage size: 16 GB announced Feb 2007, available May 2007? (8 GB was predicted for 2005, 16 GB in 2006, 32 GB in 2007, 64 GB in 2008, 128 GB in 2009).
SxS

Pronounced "ess by ess". 75mm long, 34mm wide, 5mm thick. Designed for professional video cameras, these new memory cards - announced April 2007 - are the size and shape (and interface) of a PCI Express™ card (half the size of a PC Card™). PCI Express™ has a maximum data transfer speed of 2.5 gigabits per second, while the target transfer speed of SxS™ memory cards is 800 megabits per second.

These could be what the P2 never quite was, and it'll be interesting to see how they go.

Made by: SanDisk and Sony.

Maximum storage size: 16 GB, expected to double in the next few months.
ExpressCard SSD

Aparently the generic version of SxS, SSD simply stands for Solid State Drive. The size of a PCI Express card, uses the PCI-E controller in the ExpressCard host, etc. Said to be compatible with all ExpressCard 34 or 54 slots, with speeds over 45 MB/s.

Made by: Delkin, Lexar.

Maximum storage size: 16 GB.
Back to top.
For more information
Wikipedia's comparison of memory cards is a good place to start further research.
---

Celebrating the independent kiwi spirit of invention.
Contact:
Return to ianman HOME | Back to Aqualab Home | Return to TOP
Inventions: Super Soaker Backpack | Air Cannon | Car Interior Lighting | LED Torch
---
* This would have been an ad.

When you buy stuff from Asian sellers:
Please don't buy stuff from a country in the middle of intimidating its neighbours.